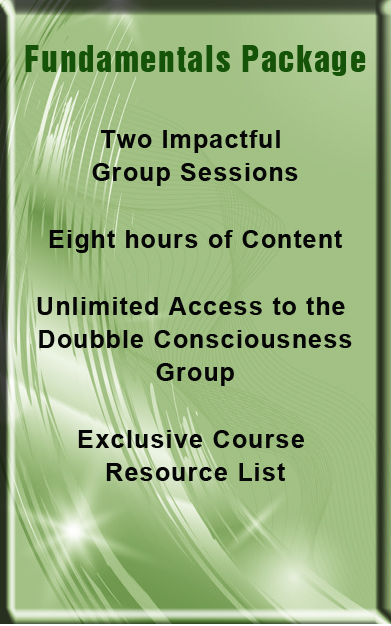 Registration Open!
Date: Sunday, February, 6 & 13, 2022
Time: 4-8 pm
Full Course Value $2500.00
Regular Price $389.00
Year End – Special Offer!
Beautiful gift for a friend.
Register before Dec. 31st
Only $149

Sessions are held on Zoom

Double Consciousness is a concept put forward W.E.B. DuBois, Social Reformer and somewhat of a poster boy for NAACP (National Associations & Advancement of C0loured People).  Double Consciousness refers to, two streams of thought and two social identities.  Referring to those that were assimilated upon trauma; brown and black people reconciling, with their two-ness.  My facilitator/administrator Marcia Shelton and I bring this concept to the 21st Century with 2b's … no it's not a spelling error ..lol!
The other specific group that we look at, is of course The Assimilator and the descendants thereof.  In Doubble Consciousness Fundamentals, the concept is saturated and applied to all groups of people in the room.  The content can be riveting and it does come with some trauma triggers.  However, this is discussed beforehand and we are diligent about creating a brave safe space for all our participants. We take a look at Dr. Joy DeJruy's work, Dr. Kenneth Hardy, Tommy Curry's work, and some great psychologists, therapists, and social scientists.   The Dichotomy and Duality of two nations is thoroughly unpacked.  Having brown & black people, white people, a number of groups present.  There is literally a transformation of hearts as we travel through a 'time warp' from the present to the past and back home again, then again and again until we reach a place of potential conversion; believing to the point that we covet, and have a desire to implement some true personal changes.  Doubble Consciousness Fundamentals is the prerequisite for Doubble Consciousness Advanced. 
Next Webinar: Doubble Consciousness Fundamentals:
Sunday, February 6  &  13,  2022
(Two consecutive Sundays)
Time: 4pm – 8pm